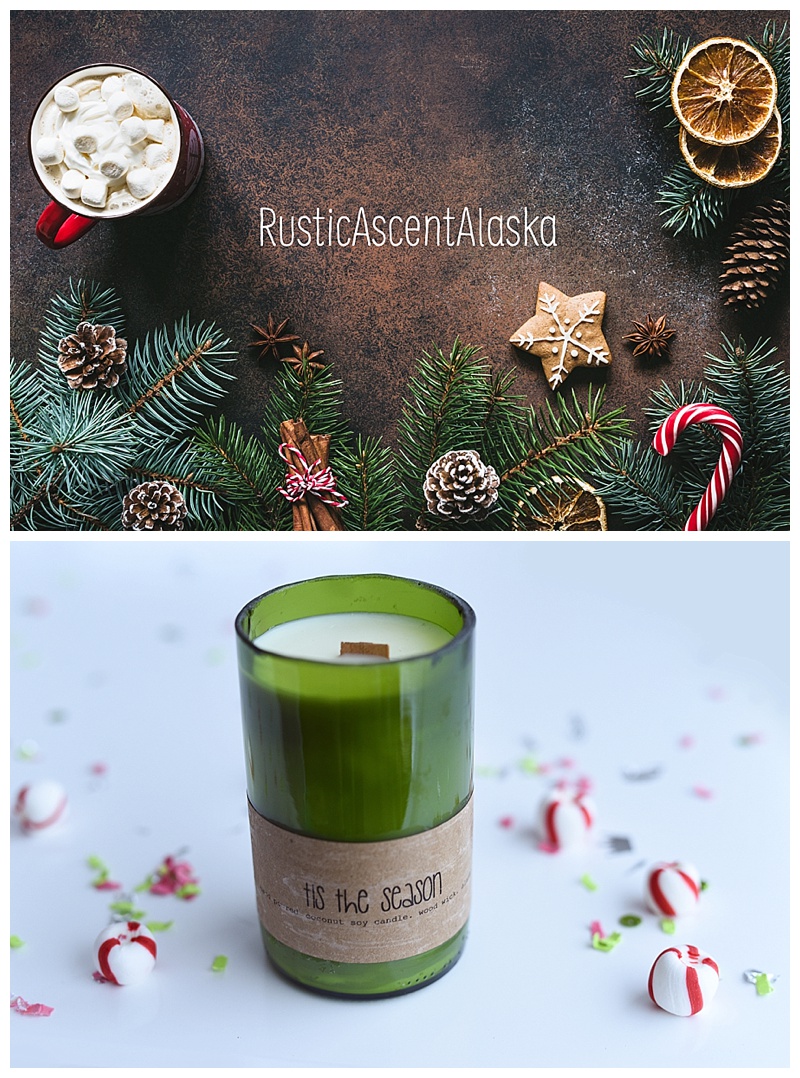 December 20, 2017
HELLO and welcome back to the another amazing day of My Favorite Things 2017! I want to say THANK YOU  to all of those playing along and to my clients for an amazing 6 years! Also, THANK YOU to all the incredible local businesses that have gifted this year and in the past. We have such an amazing community of local businesses and artists so please make sure to shop local!  Today I am featuring another gem RusticAscentAlaska! Her candles are absolutely AMAZING. I am obsessed with her entire holiday line of scents, they are just luscious.
She uses coconut soy wax with eco-friendly, phthalate free premium fragrances/essential oils with no solvents. The all natural wood wicks are naturally processed and sourced from Forest Stewardship Council (FSC) certified mills and manufactured with pride (and great skill) and they are hand poured into recycled wine bottles. The bottles are collected from a local restaurant in Eagle River.  None of her products are tested on animals and made right her in Eagle River. Her earth friendly products can be found at the Revive Home Market as well as on her ETSY page. You can follow her on her Facebook page and on Instagram.  She also has a line of skin care items such as hand made scrubs and bar soaps and vegan dry shampoo! So much goodness! She has generously gifted one of her hand poured candles in 'tis the season'. Oh my goodness it smells so good!
So here are the rules to enter! Make sure you are a fan of my page, then go leave a comment on RusticAscentAlaska and and just show a little love!  Then come back here and leave a comment on this post that you visited the other page. Make sure you are a fan of my page, then go leave a comment on Leslie Meadow Photography! Please spread the love and support local by sharing this post on your page! Just come back and leave a second comment that you shared it on your FB page (extra entry for sharing 😀 ). If you do NOT have Facebook feel free to just comment on the blog 😀 Comments close at 10 PM and I will I will randomly draw the winner from the comments. Unfortunately comments after 10 can't be counted. If you don't see your comment right away, don't worry, there is a spam filter and all comments must be approved 😀 Good Luck and have fun!